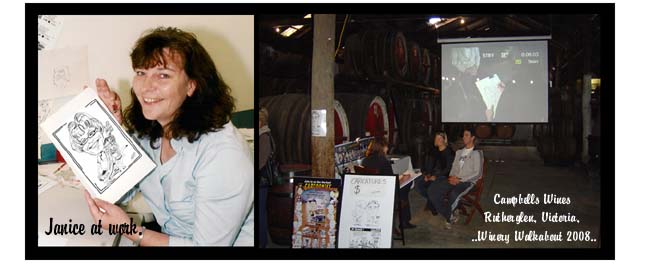 Kyabram Screenprint has been around for quite some time. Our shop is loacated in country Victoria in a great town called Kyabram. We look after both local and national clients from this location. We have over twenty years under our belt in the design and print media industry.
Janice takes care of the cartoon and design work and is in charge of printing. She is a member of the Australian Black and White Arists Association. She also vists schools to promote cartooning in Australia and has taught classes on "How to draw cartoons". Currently she works as a cartoonist for the Kyabram Free Press newspaper in Country Victoria and has been for over ten years. She has also promoted her cartoons in:
Image Magazine W.A.
N.E. Newspapers pty in Country Victoria
Janice also has designed work for national customers. She loves to win raffles and travel ...if she could! And does floors and windows.
Daryl's background is in air brush and automotive art and is a dab hand in our digital printing and screen printing department. He also is the sign writer and the official hanger upperer. Daryl is an accomplished artist also, and together this gives us an ability to provide clients with unlimited choices when it comes to artistic style.
Daryl's past life includes dairy farming, Car Shows, Builder of twoHot Rods (37' Chev ute and 34' Ford Roadster) and if you are in need of a decent set of flames for your car.... RING US!!! ......well enough about us. Have a browse over our website and if you need our services don't hesitate to contact us!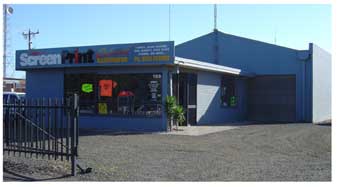 Kyabram Screen Print
Janice & Daryl George
Ph/ Fax: 0358 522800
189 Fenaughty Street
Kyabram Victoria 3620
Australia